Working Against Water Damage
The importance of water is undeniable. From fresh drinking water to washing your clothes, water is in daily use in all of our homes. Unfortunately, water can also cause some serious issues in the home, if proper care and attention is not paid to household appliances and fixtures and fittings. That's right, the refreshing and resourceful commodity the world needs isn't always on your side!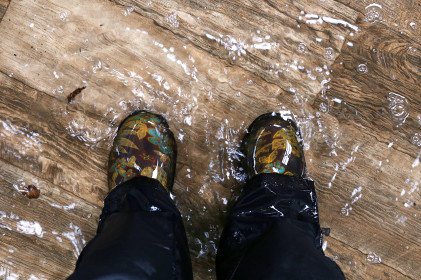 There are numerous scenarios that can unfold relating to our common frenemy. The most obvious being leaky pipes and taps, sealant and splashback issues, faulty windows, broken gutters and many more common issues that are easily fixed if a professionally trained R3 tradesman deals with it.
It's no surprise that it can be difficult to identify defective pipework when most of it is hidden or unreachable. A few ways to regularly scan for issues would be checking for any wet patches on ceilings or walls, droppage in boiler pressure, slow sink drainage and water pooling on the floor. Spotted any of these signs? Our services include plumbing work, guaranteed to trade safety standards.
The waterproof nature of sealant and grouting is a gift that keeps on giving, preventing leakage to the surrounding surfaces and objects which can easily be damaged; just one product in a range of tools which have supported the development and design of modern showers, sinks and baths which are essential to daily life. As this form of protection doesn't always deliver, it can be incorrectly applied or become mouldy over time, remember to keep a close eye for water pooling near your bathroom appliances!
Externally, it's very possible for your gutters to become cracked or blocked with debris (especially during the Autumn period), so it's important that they are regularly maintained as what was originally intended to protect your home from H2O, will then become a valued teammate! R3 Direct's tradesmen are a click or call away if your guttering needs attention.
If any of these issues arise, don't hesitate to get in contact. We provide a 24/7 emergency service through our free to join Blue Membership, as well as a free quote for any necessary repairs – and remember, the price you are quoted is the price you will pay. Click here to book online or call us on 03000 999 247.