TOP 4 QUICK & AFFORDABLE HOME IMPROVEMENTS
It's the little things that go a long way whilst working on improving your home. As we're now in possibly the most troubling cost of living crisis of our time, it's becoming increasingly difficult to make your home, your home. With bills blowing through the roof, you may feel it's necessary to put pricey renovations and upgrades on the back burner for now and start off with some smaller and more affordable additions.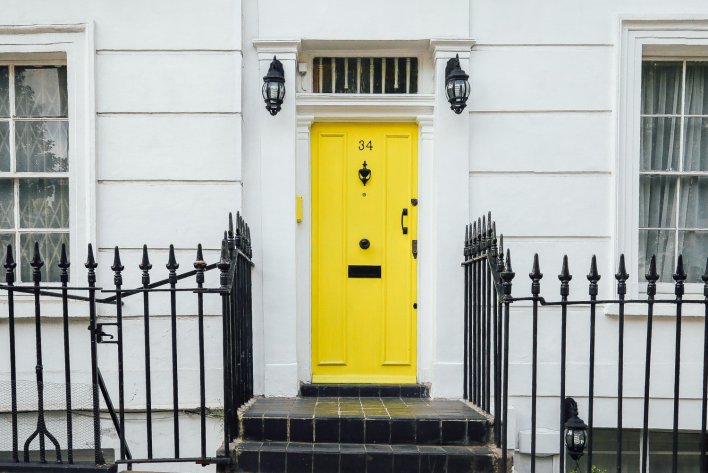 If you're seeking inspiration for your next home improvement project, whilst not breaking the bank; we've created this handy list of quick and affordable home improvements that won't incur high costs, allowing you to continue working towards your dream home.
1. Front doors in fashion
Your front door is one of the first aspects of your home that guests will notice, so why not decorate, and modify your door to add an instant welcoming feel to your home? A fresh coat of paint is a simple first step towards transforming an existing door. However, hiring a professional to fit new glass, doorknobs or door knockers can create another level of charm.
2. Style up with a stair runner
Once again, stairs are an introductory feature visitors will see upon arrival. If your stairs are bare or looking worse for wear, perhaps it's time to activate your DIY skills and install a simple yet stylish stair runner, which will effectively compliment your interior design. This affordable installation you can complete with ease will transform your staircase and give your home the introduction it deserves.
3. Sleek and storage packed shelving
Running short on storage space or simply want to spruce up the place? It's likely your walls have some empty to space to use up, that could prove to be the perfect spot for some nifty new shelving, which will add both practicality and pizzazz to your home. After using just a few nails, a trusted tradesman can have this game changing job completed in no-time!
4. Liven things up with modern lighting
Nothing is worse than dark and dingy rooms throughout your home. Installing some modern light fixtures can make all the difference, highlighting any shadowed areas in each room, ensuring your interior design skills are being captured to the max! Seeking assistance from an experienced electrician will give you free rein of where you'd like new fittings, as well as ensuring the job is completed safely.
Whether you're looking for a simple light fixture or a complete kitchen renovation, at R3 Direct, we provide a wide variety of services to suit your needs. What's more? Each job is carried out and completed by a reliable and qualified tradesman. Start your online booking or give us a call on – 03000 999 247 today!