THE R3LIABLE R3DIRECT
We know how important it is to our customers that they can trust our services will be delivered efficiently and professionally. We're always considerate of the fact that it's your home, it's your place of safety and where you feel most comfortable; which is why we want to reassure you that you're in good hands and a reliable, trustworthy service is guaranteed with R3 Direct. But don't take our word for it; check out some of the recent work from our trusted tradesmen…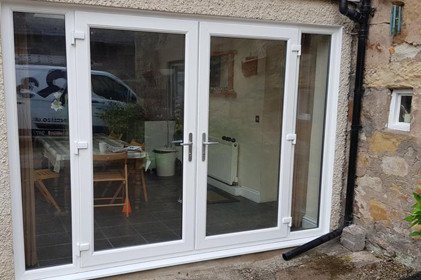 Safety is an ultimate priority, especially if you struggle with mobility issues. Keeping this in mind, a slippery shower surface is one of the common causes of injuries within the home.

A 'level access shower' (LAS) is a handy must have for those who require an easily accessible shower, just like this recently completed LAS installation near Haddington.

The R3 team remove any appliances which are no longer required, restructure the plumbing and fit the style of your choice to ensure we deliver on vision as well as practicality.
Tired of dark and gloomy rooms in your home? Well, look no further, our trusted tradesmen at R3 Direct hold the key to the solution. These brand-new PVC double glazed patio doors could be the answer to your low-lighting troubles.

Not only does it let the light shine through, but it also adds a magnificent modern look to the exterior of your home. If you're interested, why not give it a try?

This client from Berwickshire is thrilled with the results! Create your happy home with R3 Direct today.