R3TURN TO INDOOR WORKING
The long-awaited return to normality is here, which means only one thing; the team at R3 Direct are back to business as usual and that includes indoor working in your home. After a year of weaving in and out of testing lockdowns, we've all had an opportunity to be only too close to the projects in our home that require urgent attention.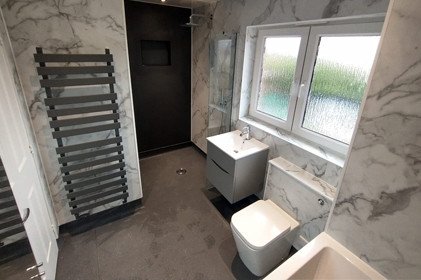 As expected, the recent easing of restrictions in Scotland has seen the demand for indoor repairs and improvements shoot through the roof, so to speak, so if you'd like to take advantage of our professional, expert services, take action now and beat the rush with R3 Direct.
Using only the highest quality parts and materials, we can cater to your repair and improvement needs at a competitive price. Whether it's faulty electrics, damaged plumbing, kitchen fittings or even refreshed decoration, we've got you covered. What's more: receive a free quote before we start, repairs are guaranteed for 12 months and benefit from our 24/7 emergency coverage, available for all R3 Direct members!
As the covid-19 exit plan is susceptible to change, we're continuing to keep updated on Scottish government guidance and apply the necessary precautions to ensure a covid safe process, including social distancing, use of PPE (Personal Protective Equipment), SMS communication before our arrival and more.
Click here to book online, or call – 03000 999 247.
If you're interested in our 24/7 emergency coverage, sign up for a free blue membership card, it's only a click away!
We're ready to deliver a five-star service. Responding, repairing and rebuilding across East Lothian, Midlothian, Edinburgh and the Scottish Borders!