R3 Direct – Keeping you informed
An update on R3 Direct's working guidelines and support measures in the light of the current COVID-19 outbreak and restrictions.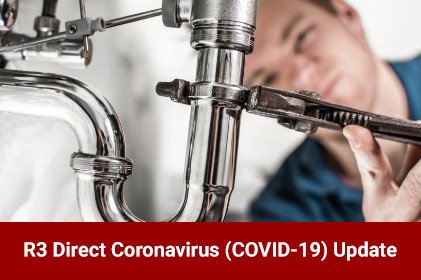 The current situation with regards coronavirus (Covid-19) is very fluid and changing constantly.
As a business, we follow the guidelines and advice as given by the Government and act accordingly.
Our priority is safeguarding everyone's wellbeing, from our families and team, tenants and customers, to the general public.
We are rigorously following these guidelines, whilst ensuring that urgent repairs are still carried out by our tradesmen. We would never pressurise any of our staff to work, or allow them to attend a job if they had any of the Coronavirus symptoms. We will always follow the Government guidance. A link to the full guidance is below, but the bits that apply to us are as follows:
Work carried out in people's homes, for example by tradespeople carrying out repairs and maintenance, can continue, provided that the tradesperson is well and has no symptoms and is happy to work.
Rule of a 2 metre distance from any household occupants is followed to ensure everyone's safety.
No work shall be carried out in any household which is isolating or where an individual is being shielded, unless it is to remedy a direct risk to the safety of the household, such as emergency plumbing or repairs, and where the tradesperson is willing to do so. In these cases, we shall take the correct advice to protect tradespeople and households.
Visit the government website here for details
Our staff are considered "Category 1 Key Workers" under current guidance when doing urgent repairs, and so are allowed to travel to and from work.
In addition to this, all our staff are supplied with disposable gloves which are only used once and disposed of after each job, as well as hand sanitizer, which is used before and after each job.